Kayla Cheung is a Licensed Nurse Practitioner who is able to care for all ages, from newborns to older adults. In 2010, she graduated from Thompson Rivers University in Kamloops, BC, with a Bachelor of Science in Nursing. As a Registered Nurse she worked in emergency medicine, occupational health, and public health. Her nursing career has taken place in rural and remote communities, including Indigenous communities and remote oilfield camps. After 6 years of nursing she began her Master's degree with the Athabasca University and has now graduated as a Nurse Practitioner with an all-ages generalist designation.
Kayla has special interests in diabetes management, anxiety/depression/ADHD, and polycystic ovarian syndrome (PCOS). She plans to pursue further education in integrative health, functional medicine, and medical Botox. She is a member of The Institute for Functional Medicine, The American and Canadian Holistic Nurses Associations, The Canadian Institute of Integrative Nursing Development & Education, and The American College of Lifestyle Medicine.
Book with Kayla:
Kayla can be the primary care provider for you and your entire family.
Book with Kayla if you need complete primary care, including physicals, driver's medicals, prenatal care, gynecological health (including birth control and Pap smears), pharmaceutical prescriptions, lab investigations, testing (such as x-rays, CTs, and MRIs), and referrals to specialists.
Also book with her, if you are in need of a female primary care practitioner who has more time to spend with you during appointments, and will work together with you to discover the root cause of your concerns.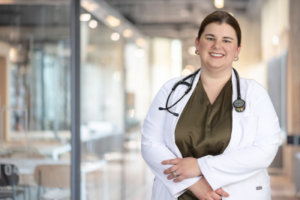 Kayla Cheung, MN, NP
Please call 780-439-1200 to make an appointment.