Naturopathic Doctor, Dr. Adam Kozin, ND, is a licensed Edmonton Naturopath focusing on naturopathic cancer care. He graduated with honours from the Southwest College of Naturopathic Medicine and Health Sciences (SCNM) in
Phoenix, Arizona.
After graduating from SCNM he underwent a two-year residency in naturopathic
oncology care at Naturopathic Specialists, LLC in Scottsdale Arizona. During his residency, he experienced
first-hand the benefits of combining conventional cancer care with naturopathic medicine.
Throughout his training, Dr. Kozin rotated in conventional oncology clinics and hospitals and helped patients with
cancer as part of an integrated care team. After completing his residency he wished to return home to
Edmonton and take what he learned during his training to help patients with cancer.
Dr. Kozin was born in Edmonton, Alberta, Canada. Prior to going to SCNM he graduated with honours
from Concordia University of Edmonton with a Bachelor of Science in Biology.
While completing his undergraduate degree Dr. Kozin worked in the Imaging department of the Royal Alexandra Hospital in
Edmonton. This experience as well as his passion for the outdoors struggles with his own health and
watching multiple family members pass away from cancer led to Dr. Kozin's interest in naturopathic
medicine and integrative cancer care.
While attending SCNM Dr. Kozin became heavily involved with their research department. He performed
research at both SCNM and Arizona state University (ASU). He has published his research in multiple
scientific journals.
He has also had the opportunity to present his research internationally at conferences
such as the Symposium of Integrative Oncology, the Oncology Association of Naturopathic Physicians
and the Ancestral Health Symposium.
Currently, Dr. Kozin is a member of the College of Naturopathic Doctors of Alberta (CNDA), Canadian
Association of Naturopathic Doctors (CAND), American Association of Naturopathic Physicians (AANP),
American Society of Clinical Oncology (ASCO) and the Oncology Association of Naturopathic Physicians
(OncANP) where he serves on the research committee. He was previously a research assistant at SCNM
as well as at Arizona State University (ASU).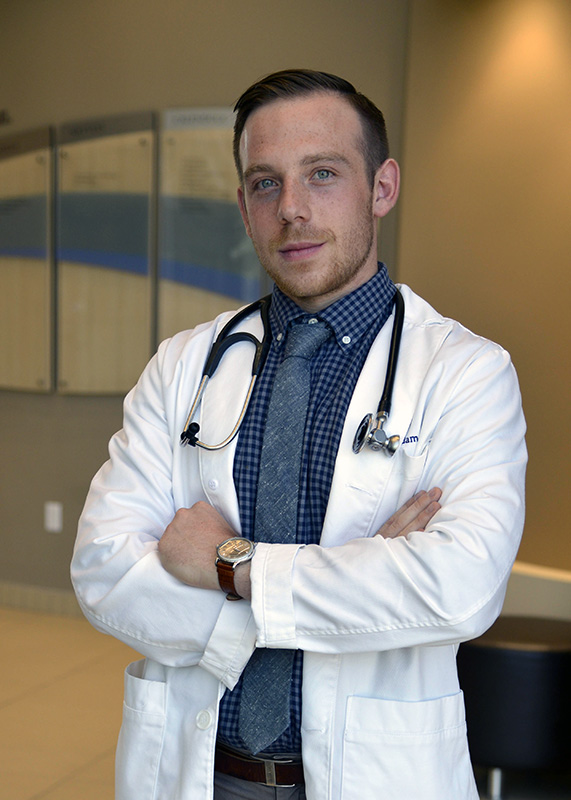 Dr. Adam Kozin, B.Sc., ND
Please call 780-439-1200 to make an appointment.