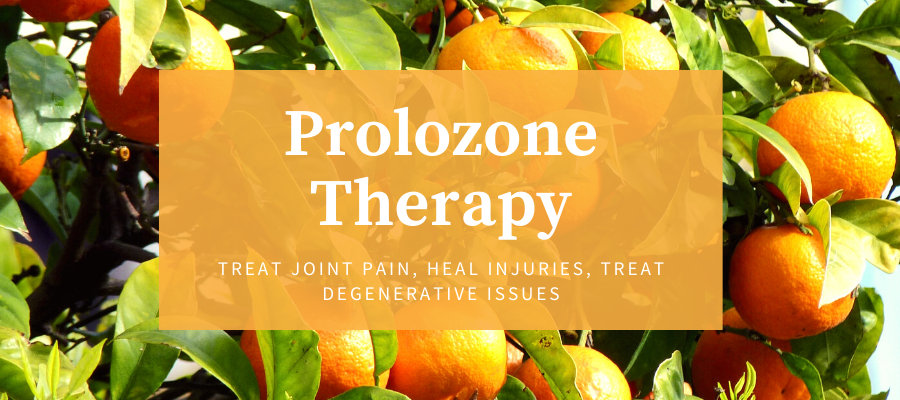 Prolozone Therapy at our Edmonton Naturopathic Clinic uses combination of ozone gas & tissue building blocks are injected into joints & areas of reduced oxygen uptake to stimulate a healing response.
This is often utilized in more degenerative tissue injuries osteoarthritis and spinal disc problems.
More degenerated injuries are exacerbated by poor blood circulation. Poor blood circulation leads to decreased oxygen uptake in the injury which then leads to increased lactic acid production. Increased lactic acid in the injured tissue leads to pain!
When all of these factors are in place, the immune system cannot get to the injured area to do any regeneration or rebuilding.
This process can be reversed permanently through the use of prolozone injection therapy. Research shows that oxidants stimulate growth factors.
Ozone is a combination of 3 oxygen molecules in a gaseous form. Because of its structure. ozone is an oxidant & immediately improves oxygen uptake in the damaged tissue along with stimulating growth factors for injury rehabilitation and regeneration
It usually takes between 3-5 treatments to permanently correct the injury although pain relief is usually seen following the first treatment Both during and following prolozone treatment. It is recommended that patients undergo rehabilitative treatments through a qualified chiropractor or physiotherapist to correct weaknesses that have been set up following the chronic injury. Patients can expect anywhere from 3-5 treatments of prolozone within a six-month period for complete pain relief.
Prolozone Therapy Studies:
Oxidants Stimulate Growth Factors
Rao GN. Division of Cardiology, University of Texas Medical Branch, Galveston 77555, USA. Oncogene. 1996 Aug 15; 13(4):713-9.
"Protein tyrosine phosphorylation events play determinant roles in cellular processes such as proliferation and differentiation."

"We have recently reported that hydrogen peroxide, an active oxygen species and a cellular oxidant, stimulates growth response events in vascular smooth muscle cells. Our findings show that hydrogen peroxide stimulates tyrosine phosphorylation of several proteins including epidermal growth factor receptor."
Oxidants Activate Growth Factor Receptors
Kai Chen, Shane R. Thomas, et al. Mitochondrial function is required for hydrogen peroxide-induced growth factor receptor transactivation and downstream signaling. J. Biol. Chem. 279(33):35079-35086.
"These data establish a novel role for the mitochondrion as a proximal target specific to hydrogen peroxide-induced signaling and growth factor transactivation."
Oxidants Mediate the Effects of Growth Factors
Ioan Cucoranu, Roza Clempus. Circulation Research. 2005;97:900-907.
"NAD(P)H oxidadase 4 mediates transforming growth factor-beta1-induced differentiation of cardiac fibroblasts into myofibroblasts."

"Intraforaminal O(2)-O(3) Versus Periradicular Steroidal Infiltrations in Lower Back Pain: Randomized Controlled Study."
Bonetti M, Fontana A, Cotticelli B, Volta GD, Guindani M, Leonardi M.. Am J Neuroradiol. 2005 May; 26(5):996-1000.
"CONCLUSION: Oxygen-ozone treatment was highly effective in relieving acute and chronic lower back pain and sciatica. The gas mixture can be administered as a first treatment to replace epidural steroids."

"Painkilling Effect of Ozone-Oxygen Injection on Spine and Joint Osteoarthritis."
Al-Jaziri AA, Mahmoodi SM, Saudi Med J. 2008 April;29(4):553-7. Departments of Surgery, Rashid Hospital, Dubai, United Arab Emirates.
"CONCLUSION: This study validates the pain killing effect of ozone-oxygen injection on osteoarthritis of the joints and spine. Its long-term effect on pain advocates the likelihood of some histological changes as mechanism of its action."

"Intramuscular Oxygen-Ozone Therapy in the Treatment of Acute Back Pain with Lumbar Disc Herniation-a Multi-Center, Randomized, Double-Blind, Clinical Trial of Active and Simulated Lumbar Paravertebral Injection."
Marco Paoloni, MD, Luca Di Sante, MD, Angelo Cacchio, MD, et al., SPINE Volume 34, Number 13, pp 1337-1344, 2009.
"It should, nevertheless, be pointed out that the pathophysiology of LBP and radicular pain has not yet been fully understood. Indeed, the mechanical effect of nerve root compression does not seem to completely explain radicular pain. Inflammatory changes have been observed in lumbar disc and periradicular tissues in people suffering from lumbar and radiating pain, and a correlation has been found between inflammatory changes in herniated lumbar disc specimen and outcome after lumbar disc surgery, with a lower VAS rating in those patients showing inflammatory changes in the herniated disc after surgery."

Ozone vs placebo – 61% vs. 33% pain free
Fifth International Symposium on the Applications of Ozone, April 2007, Havana, Cuba
 "We conclude that intra-articular ozone is an effective therapy in the treatment of grade III knee osteoarthritis resistant to treatment with NSAIDS."

"Ozone Shot as Effective as Surgery for Herniated Disc."
As reported in CyberRounds, by Neil Wagner.
A Toronto team examined the results of 12 previous studies involving over 8,000 patients of ozone treatment of herniated discs. The studies showed ozone therapy to be just as effective as surgery but with a shorter recovery time and a much lower risk of complications.