When you ask naturopathic doctor, Dr. Park, what was her dream as a child, it would be very easy for her to answer as she is living her dream right now: being a doctor, better yet, a Naturopathic Doctor.  She was focused on becoming a conventional doctor until she learned about Naturopathic Medicine during her undergrad and realized the field was what she had been waiting for. Spending time to listen to her patients about their health concerns, learning about how their life has led to where they are at now, understanding their state of mind and body to assess and treat patients, sounded all very good to Dr. Park.
Dr. Park is passionate about helping her patients to:
Improve their chronic pain, anxiety and digestive concerns with Acupuncture, Herbal Medicine, and Nutrition.
Achieve Natural Beauty through her #SkinAgeWell Program involving Facial Rejuvenation Acupuncture (FRA), elapromed®  Facial micro-current Therapy, Clean Cosmetics, and Lifestyle changes including Nutrition.
Ideal patients for #SkinAgeWell Program are with
Fine lines and wrinkles
Sagging cheeks
Dark circles
Dull complexion
Acne
*The #SkinAgeWell Program is painless, non-invasive, does not involve injection, and does not require a downtime.
Dr. Park, ND is originally from Seoul, South Korea and immigrated with her family to Richmond, BC when she was in grade 9.  She understands the challenges immigrated families face in a new environment. She is fluent in both English and Korean.  As of July 2018, she has moved to Edmonton and excited to be in a city where people value family and community.
Dr. Park enjoys attending concerts, singing, dancing and going for walks in the nature. You will find her in bright colours with smiles on her face, happy to see you!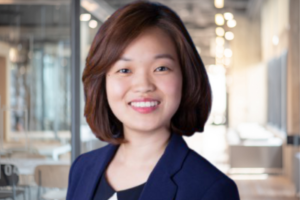 Dr. Shin Park, ND
Please visit Dr. Park's social media or website for more info:
Please call 780-439-1200 to make an appointment.
Dr. Park is a member in good standing with:
College of Naturopathic Doctors of Alberta
Canadian Association of Naturopathic Doctors
Education and Qualifications
Dr. Park's education and qualifications are:
Doctor of Naturopathic Medicine at Boucher Institute of Naturopathic Medicine
Bachelor's Degree in General Science at University of British Columbia
Acupuncture
Facial Rejuvenation Acupuncture (FRA)
Bowen Therapy
Craniosacral Therapy level 1
Naturopathic Doula Course