As a Chinese doctor, Dr. Olivia Haiyan Shen Ac. was born into a family with a long history of practicing Traditional Chinese Medicine (TCM). She has personally seen and benefited from the amazing effect of TCM health preservation and treatments.
She is a Registered Acupuncturist, a Registered Acupoint Tuina therapist, and a Registered Osteopathic Therapist. She is also very knowledgeable in natural skincare therapies. She is passionate about helping her patients reach their optimum health condition with her knowledge and professional skills. Dr. Shen Ac. believes that the human body has a strong ability to heal itself, and has various energies moving through the body in a certain way to keep it healthy and balanced. Any treatment should not disrupt the body's internal balance and affect the routine of its various functions.
Dr. Shen Ac.  takes a holistic approach when determining treatments, and deems that the relationship between humans and nature is interactive and inseparable as a whole. TCM stresses the importance of harmony in one's health; holding that a person's physical health depends on harmony in the functions of their various body organs, the moderate status of the emotional expression, the adaptation and compliance to different environments, and the most vital being the dynamic balance between yin and yang.
Dr. Shen Ac. treats diseases based on full consideration of the individual's constitution, climatic and seasonal conditions, and the individual's environment. She diagnoses patients through inspection, auscultation, olfaction, inquiry, and palpation. She uses many non-pharmacological alternative approaches of TCM such as Acupuncture and Moxibustion, Acupoint Tuina  treatments, Cupping and Guasha (scraping). Acupuncture is used mainly to alleviate pain and to treat various physical, mental, and emotional conditions, but is also used to relieve discomfort associated with a variety of diseases and conditions.
Dr. Shen Ac. also practices Osteopathy which is a method of diagnosis and manual treatments for a wide range of musculoskeletal conditions. It works with the structure and function of the body, and is based on the principle that your wellbeing depends on the joints, muscles, ligaments and connective tissues functioning smoothly together.
Osteopathy can help with many conditions such as: back and neck pain (osteoarthritis, muscle and ligament strain or injury, etc.), shoulder pain (rotator cuff problems, frozen shoulder, muscle strain or injury, etc.), hand and elbow pain (tennis elbow, golfers elbow, tendon and ligament injuries etc.), hip pain (osteoarthritis, labral tear, soft tissue injuries, etc.), knee pain (osteoarthritis, tendon and ligament injuries, etc.), and foot and ankle pain (plantar fasciitis, Achilles tendinopathy, etc. ).
Dr. Shen Ac. has the patience and sympathy to listen to you and help you find the root cause of your health problems before making a treatment plan that will assist you in getting to your optimal health and help you enjoy your daily life!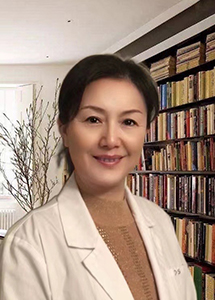 Dr. Olivia Haiyan Shen, R. Ac
Please call 780-439-1200 to make an appointment.