Dr. A.J. DeNault graduated from the Canadian College of Naturopathic Medicine in Ontario in 2000 as a Doctor of Naturopathic Medicine with two clinical excellence awards.
He then proceeded to open the Optimum Wellness Integrated Clinic in Edmonton.
Previous to that in 1984, Dr. DeNault had graduated from the University of Alberta with a B.Sc. Pharmacy and had practiced pharmacy in both Alberta and Ontario for over 25 years. His pharmacy background helps in assessing and preventing possible interactions between conventional and natural medicines and treatments that various patients may be taking at various stages of treatment.
Since then he has continued widening his scope of practice and naturopathic knowledge base by taking advanced accreditation courses and by visiting clinics or attending conferences in the USA, Germany, Mexico, and Canada.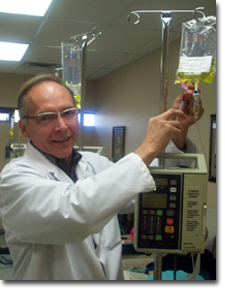 Dr. A.J. DeNault, B.Sc. Pharmacy, ND
Dr. DeNault's advanced training includes:
IV & Oral Chelation Therapy
Various Intravenous Therapies
High-Dose Vitamin C Therapy
Oxidative Therapies
Biological Mistletoe Therapy
Environmental Medicine
Dr. DeNault's Patients Say:
"My first appointment with Dr. DeNault was both comforting and reassuring. Here is a man brimming with competence and compassion -two characteristics that were so important to me as I faced chemotherapy and radiation and was desperate to know what to do next.
Timely information was readily available. I couldn't have asked for a better support than what I've experienced at the Optimum Wellness Clinic. My program of supplements and intravenous vitamin C helped speed my recovery – much to the delight of my oncologist, who has now given me a clean bill of health. If you have a health challenge, you're in great hands with the professionals at the Optimum Wellness Clinic!"
Dr. DeNault belongs to the following organizations:
CNDA College of Naturopathic Doctors of Alberta, the CAND Canadian Association of Naturopathic Doctors, the ACP Alberta College of Pharmacy, the CPA Canadian Pharmacy Association, the OncANP Oncology Association of Naturopathic Physicians, and the ACAM American College for Advancement in Medicine.